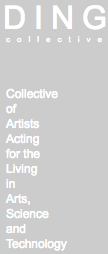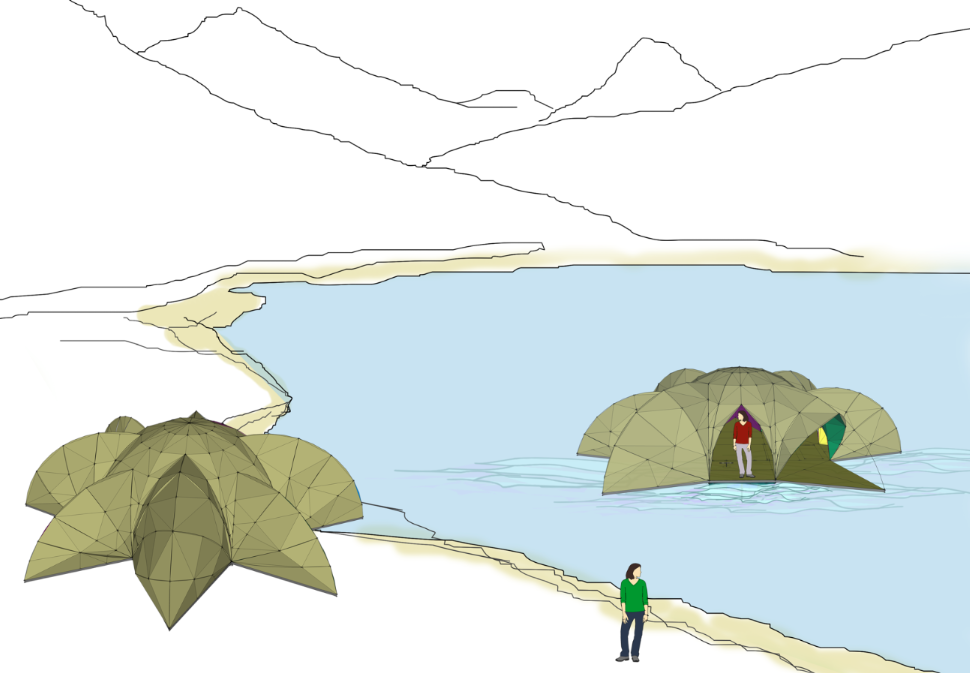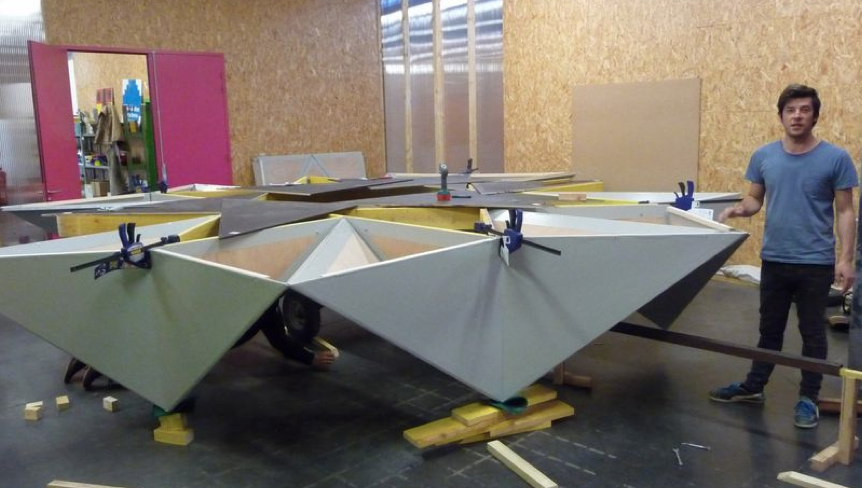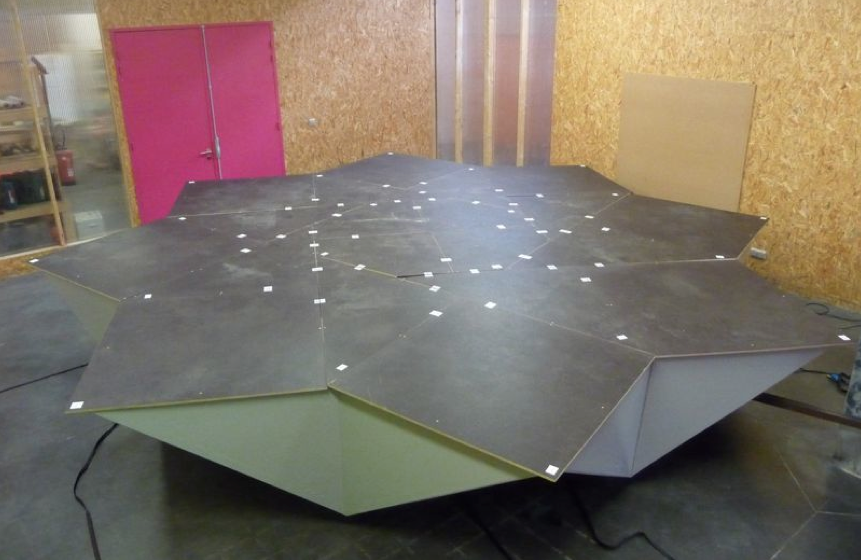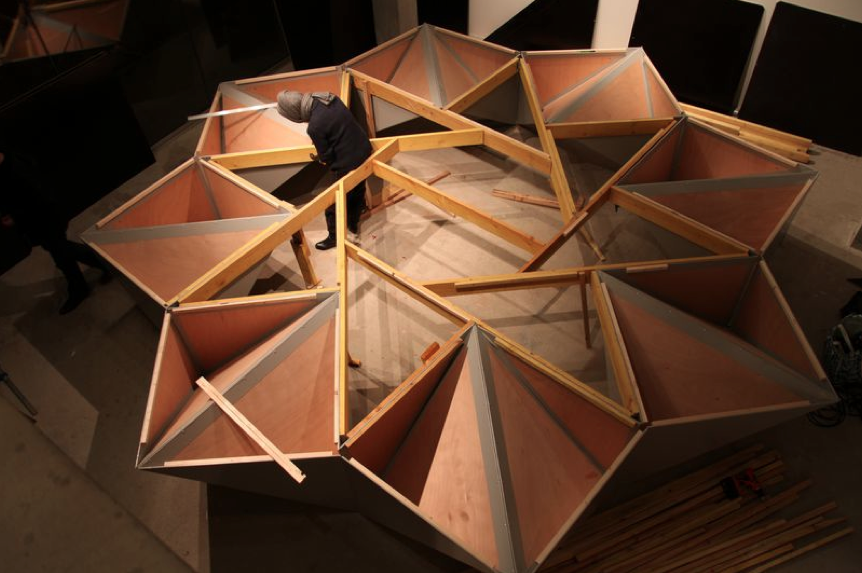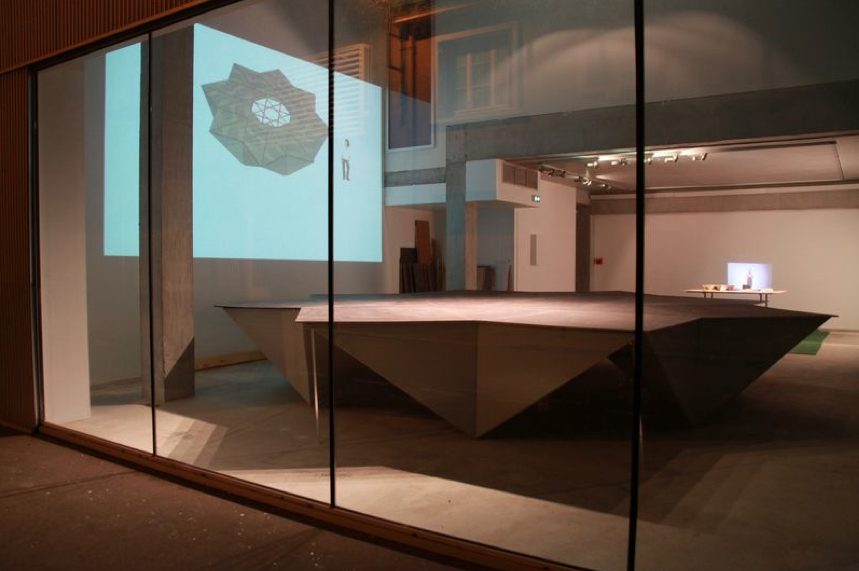 Un projet d'open-architecture
An open-architecture project
Agile Cluster
Présentation / Phase 1, La vision, le projet
Articles :
Web site realized with the GRIMO
PARTNERS
27.05.2016
(2016 / 2020)
07.06.2016
ARTICLES
PROJECTS
NEWS
CONTACT
EXHIBITIONS / EVENTS
WORKS
AGILE CLUSTER est un dispositif architectural portatif qui hybride les fonctions de l'habitat auto-mobile, du bateau et du sémaphore. Il prend la forme d'un dôme étoilé fait de tissus étanche. De couleur variable la forme nous renvoie à la turbine d'un moteur d'avion, au chapeau d'un presse-agrumes… Le dispositif peut être installé en milieu naturel, sur terre et sur l'eau.

C'est un rêve qui se réalise avec les moyens et les savoir-faire des territoires qui le mettent en œuvre... Imaginé suite à une invitation à participer à un projet d'open-architecture par nos partenaires indonésiens du collectif H.O.N.F, il se développera en France, mais aussi sur l'île de Java. L'aventure commence en 2016...

Vue de la structure ''Agile Cluster'', Bel Ordinaire, Pau, avril-mai 2017
Agile Cluster
Agile Cluster
Agile Cluster
(2016 / 2020)
Links to various documents and important moments in the creation of Agile Cluster :
See links above in the french version.
AGILE CLUSTER is a mobile device that hybrids architectural functions of the mobile home car , boat and semaphore. It takes the form of a starry dome made ​​of waterproof fabric. Variable color shape reminds us of the turbine of an aircraft engine , the hat of a juicer ... The device can be installed in a natural environment , on land and on water.

It's a dream comes true with the resources and the knoledges of people from the territories where Agile Cluster will be developped. Imagined following an invitation to participate in an open- architecture project by our Indonesian partners collective HONF, it will be developped in France , but also on the island of Java . The adventure begins in 2016 ...
Vue plongée durant le montage de la structure ''Agile Cluster'', Galerie Paradise, Nantes, novembre 2016
Montage de la structure ''Agile Cluster'' avec Guillaume Landron, artiste, Bel Ordinaire, Pau, avril-mai 2017
Ce projet a été sélectionné par la commission mécénat de la Fondation Nationale des Arts Graphiques et Plastiques qui lui a apporté son soutien financier. Le projet a également reçu l'Aide à la Création de la DRAC Aquitaine en 2017.

La première étape de construction d'Agile Cluster a eu lieu lors de deux résidences, la première à la Galerie Paradise à Nantes en novembre 2016 et s'est prolongée lors de la seconde aux ateliers du Bel Ordinaire en avril-mai 2017.

Initié en 2016 par notre collectif Ding, Agile Cluster est un dispositif architectural portatif qui hybride les fonctions de l'habitat et de l'îlot. Il peut être installé en milieu naturel, sur terre et sur eau calme. Agile Cluster est un site éphémère tout autant qu'un outil pour la recherche in situ ou pour des expérimentations esthétiques de types chorégraphiques ou des installations occasionnelles et peut accueillir au maximum huit personnes.

Agile Cluster est constitué de huit structures en bois pliables isolées par un plastique marouflé qui procure son étanchéité pour sa flottaison. Les huit modules une fois assemblés composent les flotteurs et forment une étoile à huit branches d'une envergure de six mètres cinquante. Elle se monte en quatre heures par deux personnes et se démonte en deux heures. Une fois démontée et rangée, cet îlot mobile ne prend qu'un mètre carré sur à peine une cinquantaine de centimètres de hauteur et peut aisément se stocker et être transportée dans une petite remorque qui permet également sa mise à l'eau.

Le projet Agile Cluster initié par notre collectif Ding, fut soumis aux savoirs-faire de l'artiste ingénieur Christophe Clottes qui développa le principe des flotteurs pliables. Pourvue d'une ancre pour assurer sa stabilité sur l'eau, son design dévoile une plateforme propice à l'observation panoramique et à l'étude du territoire ou étendue d'eau où elle s'installe pour quelques jours.
Plans de 2016
L'équipe de Pau / Pau team
07.07.2016
Vue de la structure ''Agile Cluster'' lors de l'exposition ''Pas encore traversée'', Galerie Paradise, Nantes, novembre 2016
(en cours de réalisation / in progress)
Croquis préparatoire du projet ''Agile Cluster'' par le collectif Ding
This project was selected by the patronage commission of the National Foundation for Graphic and Plastic Arts, which gave it financial support. The project also received aid for the creation of the DRAC Aquitaine in 2017.

The first stage of construction of Agile Cluster took place during two residences, the first at the Galerie Paradise in Nantes in November 2016 and was extended during the second at the Bel Ordinaire in April-May 2017.

Initiated in 2016 by our collective Ding, Agile Cluster is a portable architectural device that combines the functions of the habitat and the island. It can be installed in a natural environment, on land and on calm water. Agile Cluster is an ephemeral site as well as a tool for in situ research or for aesthetic experiments of choreographic types or occasional installations and can accommodate a maximum of eight people.

Agile Cluster is made up of eight foldable wooden structures insulated by a strengthened plastic which provides its sealing for its buoyancy. The eight modules once assembled make up the floats and form an eight-pointed star with a span of six and a half meters. It is assembled in four hours by two people and dismantled in two hours. Once disassembled and stored, this mobile island takes up only one square meter on barely fifty centimeters in height and can easily be stored and transported in a small trailer which also allows it to be launched.

The Agile Cluster project initiated by our collective Ding, was subjected to the know-how of the artist engineer Christophe Clottes who developed the principle of foldable floats. Provided with an anchor to ensure its stability on the water, its design reveals a platform suitable for panoramic observation and the study of the territory or body of water where it settles for a few days.
Liens vers divers documents et moments importants de la réalisation d'Agile Cluster :
Exposition ''Pas encore traversée'', Galerie Paradise, Nantes, novembre 2016