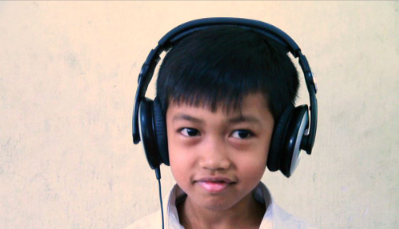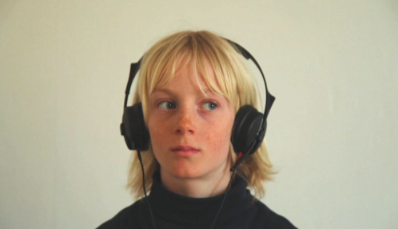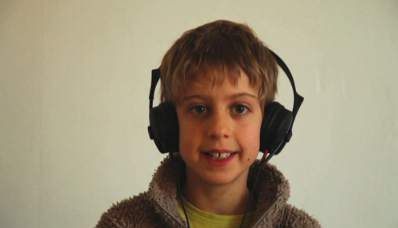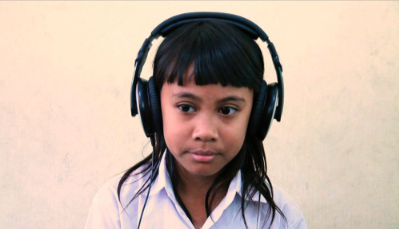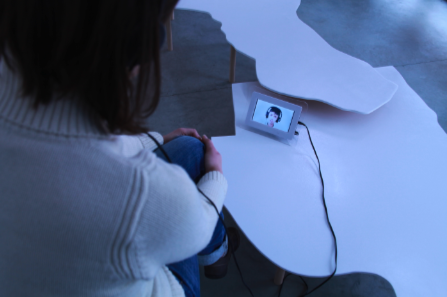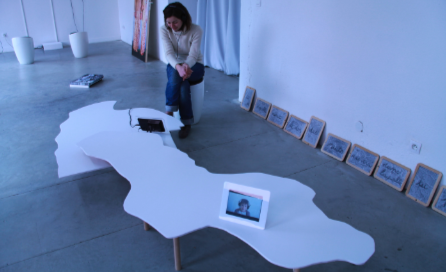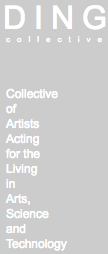 Vidéo / Workshop / Installation

Vidéo : 14'41"
Installation (2013) : Bois / Deux cadres photos numériques


KATA BERANTAI, le "mot de la chance" en Indonésien, est un projet réalisé avec les enfants des écoles de Labège et de Pentingsari. Nous leur avons proposé d'organiser entre la France et l'Indonésie, un jeu de "téléphone arabe" (Kata Berantai).

Dans la première séquence de la vidéo, les enfants indonésiens et français tentent de répéter les courtes phrases que leurs homologues du bout du monde ont laissé pour eux sur un enregistreur numérique. Nous constatons l'émergence d'une troisième langue qui sera, nous l'espérons, entendue par les auditeurs curieux de chants d'oiseaux et de musique. La deuxième séquence est composée d'une succession de portraits photographiques des enfants réalisés avant la prise de parole. C'est le temps suspendu de l'écoute, la séquence fait apparaître des expressions inquiètes et amusées qui témoignent de leur état intérieur.

L'installation Kata Berantai fut présentée lors de la première exposition TRAVELLING NATURES à la Maison Salvan, à Labège en 2013. Elle est composée de cartes-plateaux d'un fragment de Labège et de Pentingsari sur lesquels sont disposés deux petits écrans.

NEWS
WORKS
PARTNERS
CONTACT
EXHIBITIONS / EVENTS
ARTICLES
KATA BERANTAI
2011/2013
Video / Workshop / Installation

Video: 14'41"
Installation (2013): Wood / Two digital photo frames


KATA BERANTAI, the "word of luck" in Indonesian, is a project with school children from Labège and Pentingsari. We proposed them to organize between France and Indonesia, a game of "grapevine" (Kata Berantai).

In the first sequence of the video, Indonesian and French children try to repeat short sentences than their counterparts half a world left for them on a digital recorder. We are seeing the emergence of a third language will be, we hope, by the curious listeners heard birdsong and music. The second sequence is composed of a series of photographic portraits of children performed before speaking. This is the time suspended listening, the sequence reveals worried and amused expressions that reflect their inner state.

The installation Berantai Kata was presented at the first exhibition TRAVELLING NATURES at Maison Salvan, in Labège in 2013. It consists of plateaus cards fragment Labège and Pentingsari which are arranged on two small screens.
PROJECTS
KATA BERANTAI
2011/2013
2011/2013
KATA BERANTAI
Images tirées de la vidéo Kata Berantaï
Installation KATA BERANTAI lors de l'exposition TRAVELLING NATURES à la Maison Salvan, Labège, 2013
VOIR / SEE the video on VIMEO