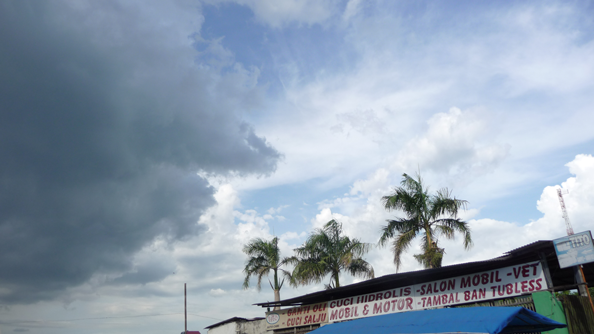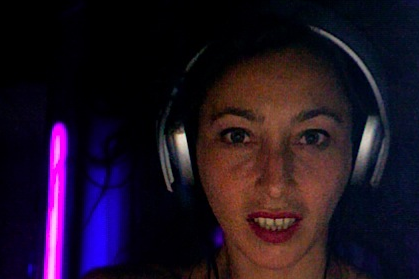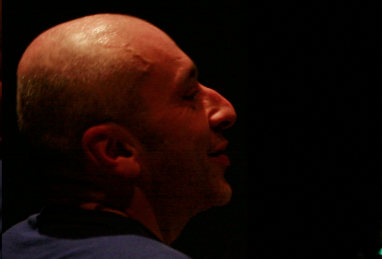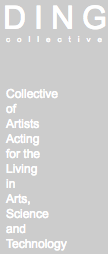 DING est un collectif d'artistes voyageurs.
Créé en 2011 par Jean-Paul Labro et Lyn Nekorimate,
DING est un laboratoire de recherche, de création,
et de réalisation de projets artistiques et culturels voyageurs.
Basé à Vincennes et à Pau,
DING est aussi une plateforme mobile.
DING is a collective of artists traveler.
Created in 2011 by Jean-Paul Labro and
Lyn Nekorimate,
DING is a laboratory of research, creation, and
travelling artistic and cultural realizations.
Based in Vincennes (near Paris) and
Pau (south west of France),
it is also a mobile platform.

Au coeur de nos enjeux poétiques et artistiques nous inscrivons la nature du projet. Considérant l'art et la vie comme les deux faces d'une même médaille, nous préférons la gagner hors compétition, dans des courses où le proche et le lointain s'unissent pour atteindre les territoires du présent.
Nous nous attachons tout particulièrement à l'idée d'un décloisonnement de notre cadre culturel natif et de ses pratiques artistiques. En premier lieu du projet, il y a l'exploration pacifique des paysages et des communautés qui nous accueille. Aussi nous considérons l'étude d'un contexte comme le préliminaire à la marche du projet.

L'énergie de notre activité artistique coule dans les sillons du voyage.

Observatrice des Histoires parallèles, notre démarche est nomade. Nous puisons notre matériau de création aux sources des rencontres et des échanges avec ceux qui nous accueillent. Procédant comme des glaneurs sur les terres d'un monde à l'envers, notre terrain de jeu est celui du vivant. Nos partenaires sont ceux chez qui nous collectons les échos du réel, la mémoire des voix et des sons, des histoires et des rêves racontés… Nous questionnons la nature sociale du lieu, en sollicitant les habitants, pour faire émerger les dimensions de la communauté, où se distille autant de projection imaginaire que d'Histoire collectives et individuelles.
Si notre travail s'appuie parfois sur des données scientifiques, il déplace dans le champs de l'art des formes hybrides plastiques, sonores et visuelles, entre la fiction et le documentaire ...

CONTACT
EXHIBITIONS / EVENTS
WORKS
PROJECTS
NEWS
DING
Démarche artistique du collectif DING

Artistic approach of the collective DING

In the heart of our poetic and artistic meaning we register the nature of the project. Considering the art and the life as both faces of the same medal, we prefer to win it out of competition, in races where the close relation and the distant unite to reach the territories of the present.
We fasten quite particularly at the idea of a decompartmentalization of our native cultural executive and its artistic practices. First of all of the project, there is a peaceful exploration of the landscapes and the communities which welcomes us. So we consider the study of a context as the preliminary in the first step of the project.

The energy of our artistic activity flows into the furrows of the journey.

Observer of the parallel Stories, our approach is nomadic. We draw our material of creation to the sources of the meetings and the exchanges with those who welcomes us. Proceeding as gleaners on the lands of a world back to front, our playground is the one of the alive. Our partners are the ones at whom we collect the echos of the reality, the memory of the voices and the sounds, the stories and the told dreams … We question the social nature of the place, by requesting the inhabitants, to bring to the foreground the dimensions of the community, where distils so much imaginary projection as History collective and individual.
If our work sometimes leans on scientific data, it moves in fields of the art of the plastic, sound and visual hybrid forms, between the fiction and the documentary...

Lyn Nekorimate first trained in the dance academy, then went to the School of Fine Arts. She also led a University program in Paris VIII in theory of the arts and the new media.
She works in the fields of the happenings, plastic arts, video and the music. Her work articulates the politics / fiction as system of mental and ethical survival. She raises in her works the stakes in the authority and sets up systems of playful emancipations.
The body holds a big place in her work as the empirical ground and as unstable territory. Her music feeds on concrete music, on prepared instruments, on sounds of the everyday life.
During her trips, she practiced yoga in India, Legong dance in Bali, Shaolin Kung fu in New York. She dispenses workshops in schools in European and International projects ( NBorder, Travelling Natures), and works with other artists, philosophers, architects…
In 2009, she created with friends artists "La Pépinière", an associative community space of life, work, reflection, where she organizes exhibitions and artists' residences in Vincennes, near Paris.



Fondateurs / Founders
Artist, Jean Paul Labro was born in Nevers, he lives and works in Pau and Vincennes (near Paris). He invests his energy in the performance, the video, the invention of machines, installations and devices which question in a criticize way the video image and the media.
He is a co-founder of Bandits-Mages in Bourges where he managed during ten years (international matches of audiovisual media art and multimedia, gallery of Haïdouc, artists' residence). For several years Jean-Paul Labro is an initiator of workshops in school of arts which contribute to bring out the pedagogy of the context of the school. He taught the National School of Bourges Fine arts, he teaches now at the Superior School of the Arts and some Communication of Pau (south west of France).



ARTICLES
PARTNERS